SYDNEY
P (02) 9389 5644
Shop 5034, Level 5
Westfield Bondi Junction
Relocating to Double Bay - August 2019
1. Choose a package
All of our packages include amazing value
If you aren't sure on sizes, our credit packages are a flexible option
Remember, your package is just a starting point - if you need to add things on, you can
Purchase your package and then we can get you booked in!
2. Get ready...
Think about how & where you want to display the images - this may help with choosing clothing/colours to wear
Aim to arrive 10mins prior to your session and we'll sit with you to discuss what you want to achieve
Make it a family affair! This is a great opportunity to get some shots with your extended family as well.
3. GO!
Your photographic session will take around 30-40mins (depending on the kids!)
Try and relax - we do this every day
Our sessions are fun and fast, allowing us to capture the natural expressions you see in our work
4. View, select, design!
One of our designers will guide you through the selection process and help you to choose the perfect way to display your favourite photos at home (or in the office...the holiday house...anywhere really!)
5. Enjoy!
Your products will be ready for collection within 3-8 weeks of ordering
Take them home, put them up and enjoy!
If you need help hanging your photos, let us know. We have a team of people we can recommend to come and do it for you.
Remember, sun and moisture are any photo's worst friends, so keep this in mind when hanging. If you require more detailed care instructions, contact us!
Not sure what to wear?
We've put together some tips below to help you prepare for your session. If you're still struggling, feel free to give us a call and we can help!
Plain & simple clothing keeps the focus on expression
Avoid big logos, pictures and text if possible
We love plain black & white
Simple patterns, bright colours & textured or layered clothing also look great
Hats, beanies, headbands & hoodies are all great accessories
Select similar colours and/or tones for group shots. You don't all have to be in the same colour for a great shot!
Pregnancy photos
It's completely up to you how much skin you feel comfortable showing
Try to avoid heavily patterned clothing
Singlets, tights and jeans are all great
Tight clothing generally looks better, however we can make loose-fitting dresses work as well
A plain white oversized collared shirt is great
If you plan on just wearing underwear, we recommend plain black or white (not skin-coloured or nude)
Feel free to bring along accessories (e.g. lengths of material, baby shoes etc.)
Newborn photos
We generally photograph newborn babies wearing nothing
If you do decide to bring an outfit, keep it very simple
We recommend the parents wear a black, short-sleeve top. Even if you aren't planning on having a family photo, we might use your arm or shoulder in a shot
We also recommend to bring 1 or 2 plain blankets (preferably textured)
Want to work at Morffew Photos?
Send us your details and we'll get in touch!
Frequently asked questions.
We want you to be as prepared as possible for your session, so we've tried to answer our most common questions here.
Do you sell digital files?
We don't sell digital files individually, however you can purchase high-resolution files in one of our digital packages. We also include a high-resolution file of any images purchased as finished products (framed prints, acrylics, albums). Images purchased as prints (no finish) do not include a high-resolution digital file.
What is a mobile gallery? (or "web resolution file")
Some packages include our exclusive mobile galleries (or "web resolution files") that are a password protected digital gallery of your ordered images that have been specifically resized for sharing via email and social media. A link to this gallery will be sent to your email. This gallery is not available for download and does not contain printable digital images.
What is the difference between high resolution and web resolution digital files?
High resolution files can be downloaded, saved and used for printing.
Web resolution files are provided in an online gallery (mobile gallery) and can be shared online. These files are not downloadable or printable.
How long is the photographic session?
Most sessions take around 30-40 minutes, however it really depends on the kids.
How many photos do you take?
There is no set limit to the number of photos we take. It really depends on how many combinations you require, but we'll always make sure we take enough to get great shots.
Do I get all of the images taken on a USB?
No. Many photographers will give you all of the images straight out of the camera with no processing, however we pride ourselves on delivering beautiful, high-quality images to our customers. Each image that you order is retouched & colour corrected to meet our quality standards.
What if my children don't behave?
We specialise in photographing kids, so we have all the tricks to keep them engaged during the session. On the rare occasion that things don't go to plan, we will make another appointment. Kids can be completely different from one day to the next, so you never know!
Can we do family photos as well?
Of course! Most people take the opportunity to do lots of different combinations - mum & baby, dad & baby, grandparents with the kids
Do I need to make an appointment?
Ideally we prefer you to book in advance, as we can guarantee that you get the best time for your baby/family to ensure they are in the best mood. If you do need a shoot "ASAP", just contact your nearest studio and we can see what the next available session is.
What is the best age to photograph a baby?
There really is no correct answer to this question. All ages are different stages in development and we love to capture them all! We'll make sure we capture the best images we can at any age - even from just a few days old!
Do you offer retouching?
We offer retouching from simple blemish removal to more complex jobs. This generally isn't included in the price of our products and is not done automatically, but your design consultant will be happy to help with this.
Do I have to order my photos on the day of the photographic session?
One design session is included with all of our packages and most people prefer to get it all done in one go, however you do have the option of booking your design session on another day within 4 weeks from the date of your photographic session. You do need to finalise your order at the end of the first design session, so we recommend you are prepared for this.
How long does the design session take?
Your photos will usually be ready to view 20 minutes after the photographic session. The design process usually takes around 45 minutes.
How will I know how to finish my photos for display?
One of our trained designers will help you during the design session with selecting the correct sizes and finished to suit your home. We recommend taking some time beforehand to think of places you could display the photos. Some people even bring us measurements of their walls.
When will my photos be ready to collect?
Your photos will be ready to collect within 3-8 weeks from the day you place your order. As every order is customised to suit your needs, we need to take time to ensure we deliver a perfect product to you every time. If you need anything urgently or by a certain date you can discuss this with your designer.
Can I select my photos from home?
One of our trained designers will help you with the many different finish options and crops using our unique software at the studio.
Designed to last a lifetime.
Our products are hand-crafted and custom-made from the highest quality materials.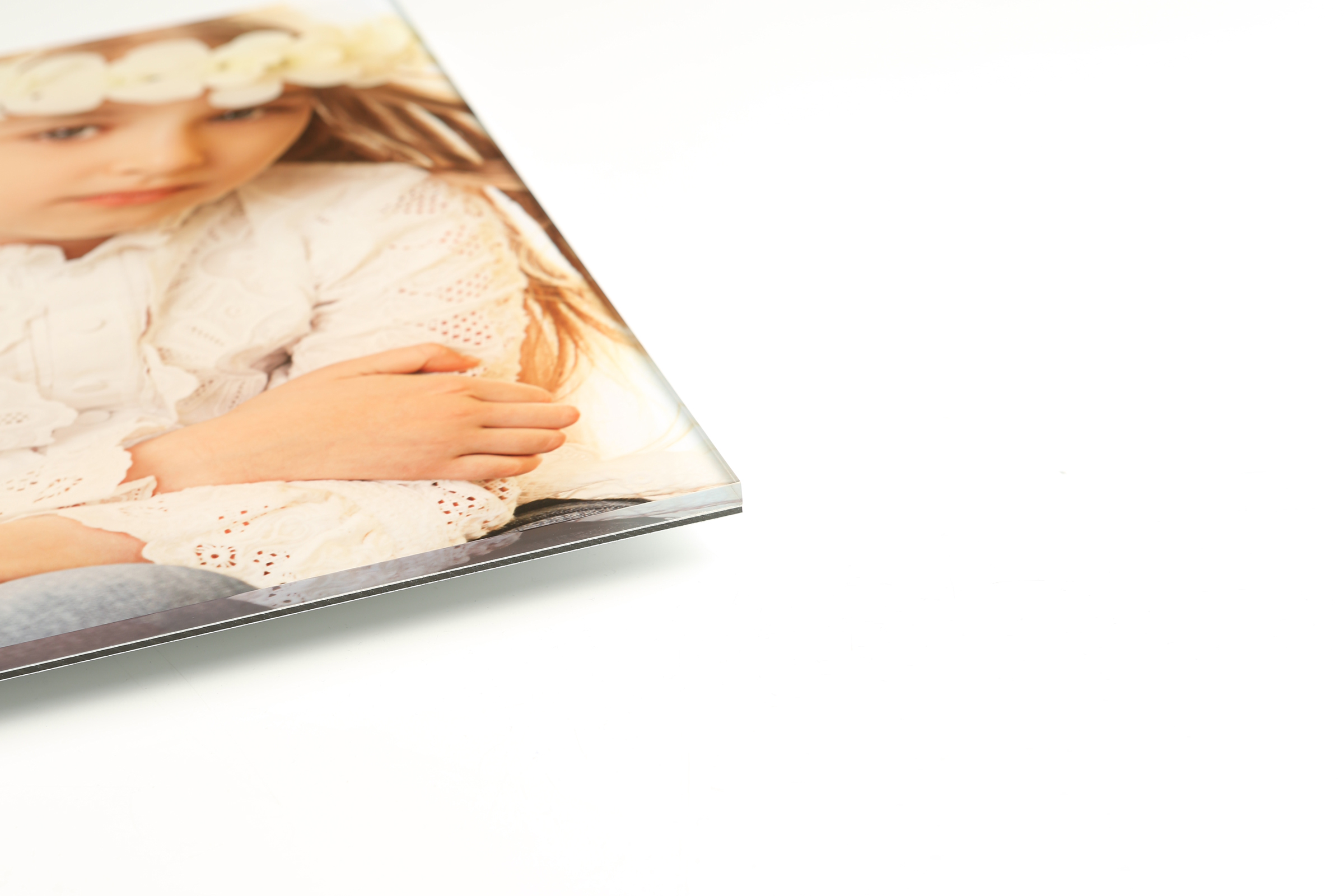 A polished 6mm acrylic face, backing & clever hidden hanging system provide a modern frameless finish that suits any space or decor.

Prices from $450

Any image finished as a wall acrylic also includes a digital copy of that image, printable to the size ordered.
Available in a selection of contemporary colours & styles, each frame is constructed using archival materials and sealed to prevent damage to your prints over time.

Prices from $325 (including print)

Any image finished in a custom frame also includes a digital copy of that image, printable to the size ordered.
Cut, polished and carefully mounted by hand - block acrylics are a modern and unique way to display photos without hanging them on the wall. Available in 30mm and 40mm thicknesses.

Prices from $380

Any image finished as a block acrylic also includes a digital copy of that image, printable to the size ordered.
Individual archival photographic prints - hand mounted to thick leaves, finished with a premium leather cover. Embossing & additional cover options available on request.

Prices from $1295

Any image finished in an album also includes a digital copy of that image, printable to the size ordered.
Archival photographic paper & inks, with a matte finish.

Prices from $70

Images ordered as prints (no finish) do not include a printable digital copy.